A Walk to Remember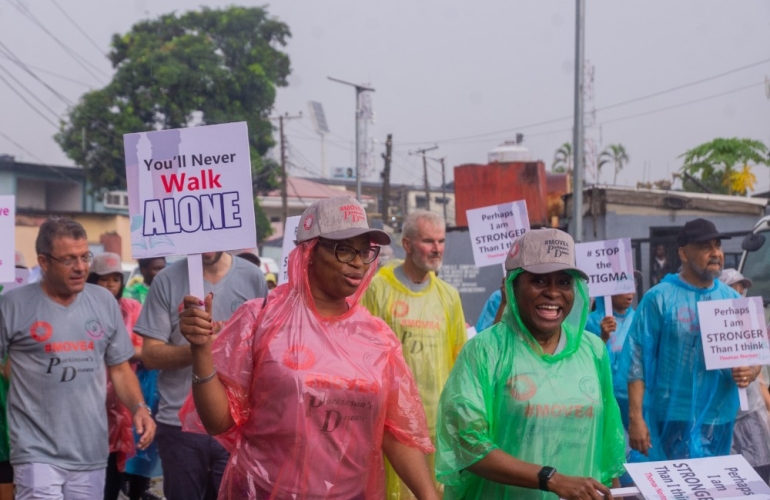 On Saturday, June 11, 2022, Parkinson's Africa, together with the Adewunmi Desalu Parkinson's Foundation (ADPF), held its first Parkinson's awareness walk in Lagos, Nigeria. The walk was part of a larger Parkinson's awareness campaign that had started two weeks earlier, in Ghana, with Guy Deacon (more on that to come later).
The weather forecast had called for rain on Saturday, 98% chance of precipitation, to be precise. I was a bit nervous, to be honest - would people show up if it rained? would the cameras get damaged? would we have to cancel the event? I remember checking the weather app multiple times a day, offering silent prayers that the skies would at least hold off until about 10am on Saturday, by which time the walk was scheduled to have ended.
My prayers were not answered. Before the walk started, the skies opened, and the rain started to fall. To my utmost delight and surprise, however, the rain did not stop people from showing up. The walk was well attended, and the enthusiasm of the attendees, infectious.
Through the rain, the tenacious spirit that is humanity shone through, and participants, each wearing a brightly coloured rain poncho, danced through the streets and held their placards high. Following the walk, everyone gathered on the beautiful garden grounds at the Adewunmi Desalu Parkinson's Centre and listened to people affected by Parkinson's talk about the disease, its impact on their lives, and their coping mechanisms. It was raw; it was real; it was refreshing. Everyone was touched as Rachel Agwu, diagnosed at 32, tearfully recounted her experiences living with Parkinson's.
Mrs. Salami, care partner of the late Mr. Sunday Salami who sadly passed away last year, also had everybody in tears, but this time with laughter as she tried to mimic my voice and mannerisms. Myself, Guy Deacon, Mr. and Mrs. Agunbiade, and Mrs Desalu also spoke about the impact Parkinson's has had on us.
We had two goals that day: the first goal was to give people living with Parkinson's a platform to be heard - to share their struggles, their victories, and everything in between; the second goal was to use those shared experiences to educate the public on what Parkinson's looks and feels like, and to give them a better understanding of how to relate to people living with the disease.
I believe that, at least with the 80 or so people in attendance, we achieved those two goals. While I am fully aware that there is still a lot of ground to be covered, I left the event on a very strong high, feeling like we had taken a small but concrete step forward in our quest towards supporting and empowering Nigerians affected by Parkinson's disease.
I would like to take this opportunity to express my heartfelt gratitude to the Adewunmi Desalu Parkinson's Foundation - our steadfast partners who worked tirelessly to ensure that the entire week in Nigeria was a successful one; and to our collective family, friends, and everyone who was able to attend, contribute, and support, and helped make this walk a truly successful one.
---
Posted by: Omotola Thomas on the 17/06/22.
---
This post has been tagged with: #Events