World Parkinson Congress 2023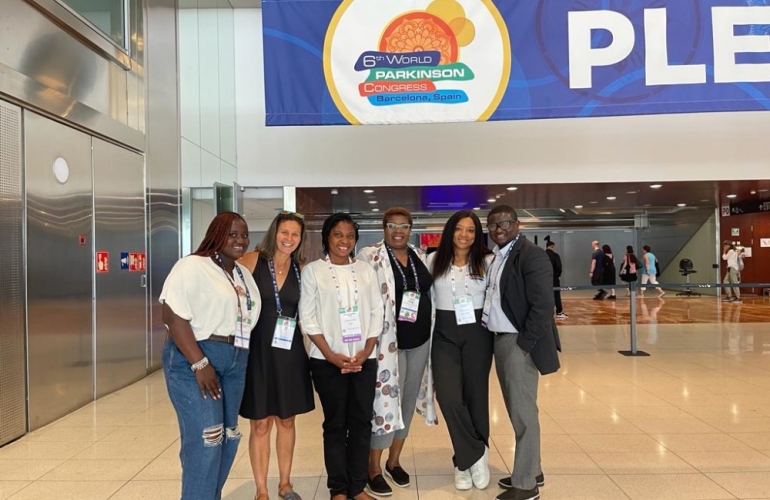 The World Parkinson's Congress 2023 was a momentous occasion that Parkinson's Africa and our African colleagues will always remember. It was an extraordinary week of global Parkinson's disease connections, friendships, compassion, optimism, and humanity.
The 6th World Parkinson's Congress was held in Barcelona from the 4th to the 7th July, 2023, with an additional two days of the Leadership Forum and specialised courses and events on 2nd and 3rd July. More than 3000 clinicians, non-governmental organisations, people with Parkinson's, and partner organisations from Australia, Africa, the Americas, Europe, and Asia attended the conference. For more than four years, many people from all around the world worked together to plan the event, ensuring that every detail was taken care of.
Omotola and Tania's attendance at the Leadership Forum on 2nd July marked the beginning of our involvement in the occasion. They joined hundreds of leaders of international NGOs and organisations in the PD community to share case studies and experiences on the challenges and opportunities in supporting PD communities around the world as well as how our combined efforts can strengthen the communities and support people with Parkinson's disease. Omotola gave a talk on Reaching the PD Communities in Africa and shared experiences from our recent Walking Football and Parkinson's Disease project in Lagos, Nigeria, showing how we engaged with communities, raised awareness, and educated people about Parkinson's disease in a fun and engaging way, followed by meaningful discussions.
Omotola spoke about advocacy and its significance and impact on the communities with which we work, as well as the challenges, barriers, and opportunities that arise when advocating for and on behalf of Africans with Parkinson's disease. Inspiring and invigorating presentations on women with Parkinson's, young-onset Parkinson's, and living well with PD were also given.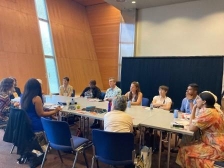 Day 1 (4th July) began with colleagues participating in a roundtable conversation that Omotola hosted about how we may reach more Africans affected by PD. There were some excellent discussions with some clear conclusions about what we can all do to support or facilitate some and address the urgent need for "creating PD communities" first, where awareness raising, and education are at their core.
We were extremely grateful to have been able to attend the Parkinson's Europe and Michael J. Fox Foundation reception drinks in the evening and meet so many old and new friends in the global PD community.
---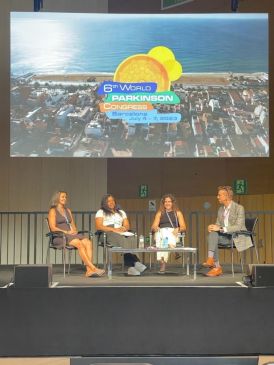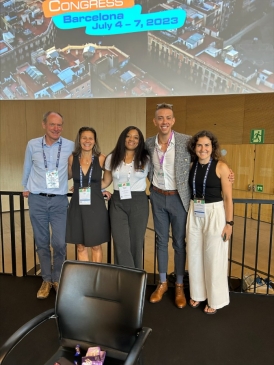 The second day of the conference was highly crucial. We were invited on stage by the Michael J. Fox Foundation for a particularly important and fascinating session discussing research opportunities and challenges of conducting research in Africa with the wonderful Omotola Thomas and Tania Park from Parkinson's Africa and Natasha Fothergill-Misbah from Newcastle University. We also had the chance to promote the TrapCAf project and lay out some of the main goals and objectives of the three-year, NIHR-funded study.
---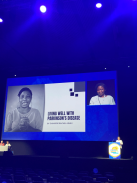 Another significant moment of the day occurred when Rachel Agwu took the stage and shared her personal story and journey with Parkinson's disease, which was both moving and inspiring.
---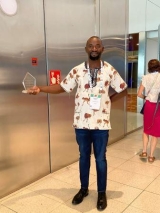 The last day of the conference was concluded by our friend, Hannington Kabugo, Director of Parkinson's Si Buko, a partner organisation focused on dispelling misinformation about Parkinson's disease in Uganda, being presented the Robin A. Elliot Award by Omotola Thomas for Outstanding Community Service. Hannington addressed the global Parkinson's community in an enlightening speech about the significance of PD awareness and education in Africa and advocated for an immediate call to action to mobilise our combined efforts and assist those affected by Parkinson's in Africa.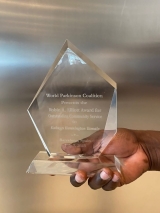 We have learned a few extremely important lessons from this significant congress that will help us streamline our operations and strategies and establish precise objectives and priorities for where and how we should support each of our African partners in the eight countries we currently operate in and beyond. Please contact us if you would like to join our journey and contribute to helping us define these priorities, objectives, and goals.
We Thank Eli Pollard and the WPC for working diligently to put on such an amazing event, but also assisting us in getting colleagues from so many parts of Africa to the WPC, and we thank all our global friends for their constant support.
---
---
Our WPC2023 Gallery
---
Posted by: on the 13/07/23.
---
This post has been tagged with: