Walking Football and Parkinson's Disease Awareness Tournament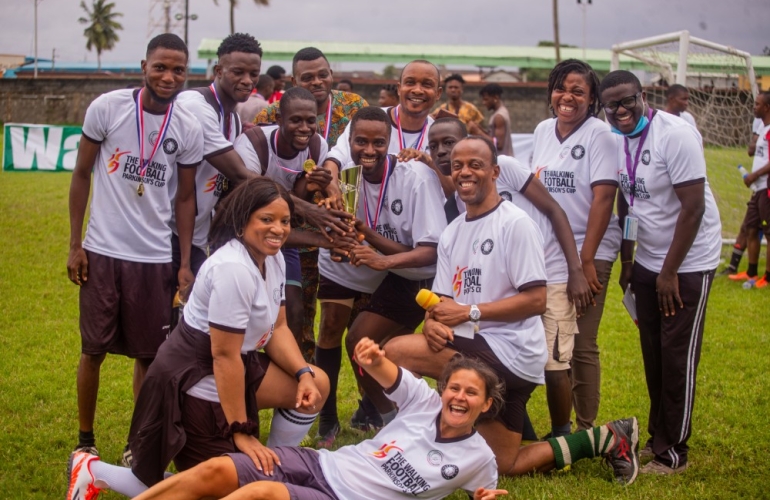 It wasn't your usual sports event on June 24, 2023. It was the first Walking Football and Parkinson's Disease Awareness Tournament in Nigeria - the Walking Football Parkinson's Cup 2023, organised by Parkinson's Africa and Adewunmi Desalu Parkinson's Disease, supported by Waka Football Nigeria team, and funded by the Vitol Foundation. Over 200 people attended the Eagle Club, 96 Adeniran Ogunsanya Street opposite Shoprite, Surulere, Lagos, for a vital and delightful event to raise awareness and education about Parkinson's disease through walking football.
From 6 a.m., Adewunmi Desalu Parkinson's Foundation (ADPF), Parkinson's Africa, Waka Football Nigeria team, volunteers, and supporters set up the venue ready for registration at 9 a.m. After attendees signed in and picked up their team shirts, 12 teams started to warm up, ready for the tournament. Ready and excited, Omotola Thomas kicked off the event followed by a short demo and a walking football match by the Nigerian Walking Football National Team.
---
The three-round tournament began at 10 a.m. Round 1, elimination stages, round 2 - semi-finals and round 3 – the finals. Teams tuned in to the walking football rules, and started to get competitive. Halfway through the event, Omotola invited three young Nigerian females (Rachel, Empress, and Mrs Ifeanyi) living with Parkinson's to speak about their experiences.

The games continued, and at 11.45 p.m., we had a crucial walking football and Parkinson's disease demonstration, themed "Support" with the walking football drill "Strong Numbers". On the football pitch, individuals with Parkinson's disease demonstrated a drill in which four attackers attempted to score through a single defender. The attackers' larger team made it easier to score. The goalkeeper represented the human body, attackers represented symptoms of Parkinson's disease (tremor, dyskinesia, constipation, apathy), and defenders represented defence mechanisms like medication, clinical support, social and physical support, nutrition, etc. The drill demonstrated that the more attackers with few defenders, the greater stress the body is under, and the more defence we can construct, the less stress. See more about the drill in our

.

People with Parkinson's (PwPs) then continued to play walking football and had fun whilst the teams were getting ready to take part in the semi-finals followed by another Parkinson's disease awareness session by two Nigerian males (Mr Agunbiade and Mr Chukwuka), who shared their journey with Parkinson's disease.

Our very first winner of the Walking Football Parkinson's Cup in Nigeria was Dream Boys, as determined by the nail-biting finals game between Sahara and Dream Boys, through penalty shootout. Sahara took the runners-up prize, and Hope Boys secured their third place by beating the Bring Back Our Language (BBOL) squad.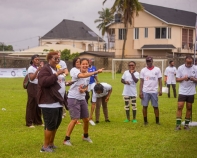 Mrs. Desalu, the founder and chair of Trustees of ADPF, closed off the event by thanking all supporters, donors, participants, onlookers, and anybody else who helped make the event a success.
---
---
Key Stats:
No. Teams: 12
NavGas (Vitol)
Mocoh Oil and Gas
LES Energy Services
AIICO Multishield
Sahara
StreSERT
Bring Back Our Lauguage (BBOL) Foundation
Panda Football Academy
Physio Boyz
Dream Boys
Hope Boys
Parky Wanderers
No. People engaged: 200-300
No. PwPs: 15
No. Games played: 28
No. Goals scored: 54
No. Parkinson's disease drills and demos: 5
Fun had: Unlimited.
Thank you to:
Vitol Foundation, Adewunmi Deslau Parkinson's Foundation, Nigerian Walking Football National Team, Nike, colleagues and friends from Lagos University Teaching Hospital (LUTH), GDL Asset Management Ltd, INITS Limited, StreSERT, and all the amazing corporates who put a team together and donated to the tournament, many supporters and volunteers, and everyone who made the tournament such a success.
---
Posted by: on the 27/06/23.
---
This post has been tagged with: